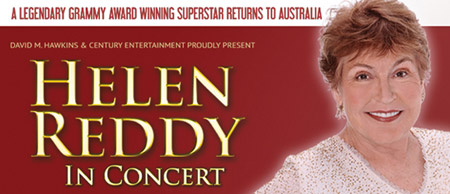 A true Australian national treasure performs her favourite songs and hits from her stellar career. The "Queen of '70s Pop" is back on tour after more than a decade off the road.
Now On Sale
MELBOURNE
THE ARTS CENTRE HAMER HALL - 5 APRIL - 8PM
BOOK ONLINE or call 1300 182 183
SYDNEY
THE CONCOURSE CHATSWOOD CONCERT HALL - 7 APRIL - 8PM
BOOK ONLINE or call 13 2489
SYDNEY
THE ENMORE THEATRE - 11 APRIL - 8PM
BOOK ONLINE or call 13 2849
BRISBANE
QPAC CONCERT HALL - 13 APRIL - 7PM
BOOK ONLINE or call 136 246
ADELAIDE
FESTIVAL THEATRE - 15 APRIL - 8PM
BOOK ONLINE or call 131 246
PERTH
CROWN THEATRE - 17 APRIL - 8PM
BOOK ONLINE or call 13 2849
Helen Reddy is one of the best known recording artists in the world. With more than a dozen Top 40 hits including the iconic anthem "I Am Woman", which was added to the National Film and Sound Archive in Australia in 2009. Helen Reddy was the first Australian to win a Grammy Award, host her own Television show and have three #1 hits in the same year in the USA. As recently as 2011, Billboard Magazine named Reddy the #28 best adult contemporary artist of all time.
As a solo concert artist, she has played at New York's prestigious Carnegie Hall and Lincoln Center, as well as the Palladium and Royal Albert Hall in London. Her career covers all facets of the entertainment industry including film, television and the theatrical stage. Her starring role in Disney's PETE'S DRAGON continues to delight younger generations. Her portrayal of Mrs Johnstone in BLOOD BROTHERS on Broadway was a great triumph which she repeated in the West End. Appearances in USA national tours of SHIRLEY VALENTINE, ANYTHING GOES, CALL ME MADAM, and THE MYSTERY OF EDWIN DROOD were also met with critical acclaim. The lyrics Reddy penned for her feminist anthem "I Am Woman" are now featured in American history high school textbooks, as an example of the Women's Equality Movement for which she has been honoured with the 26 August being named Helen Reddy Day in Hollywood with the US Postal service creating a commemorative envelope in 2013 to celebrate.
You will not want to miss this rare opportunity to hear "I Am Woman", "Angie Baby" and "Delta Dawn" performed live by Reddy herself.
"Reddy's voice remains a magnificent instrument"
Timesunion 2013