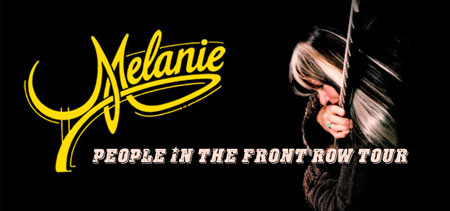 The first lady of Woodstock returns to Australia
This will truly be a night not to miss of wonderful music that spoke to a generation and beyond. Melanie will present all her hits and some new compositions all woven together with her witty stories of a career that is nothing short of extraordinary.
ON SALE NOW!
Adelaide Cabaret Festival, SA
Dunstan Playhouse
Saturday, 7 June, Sunday, 8 June and Monday, 9 June - SOLD OUT!

Brisbane Powerhouse, Brisbane, Qld
Thursday, 12 June 2014 - SOLD OUT!

Star Court Theatre, Lismore, NSW
Saturday, 14 June 2014
BOOK ONLINE or Phone 02 6622 5005
The Clarendon, Katoomba, NSW
Tuesday, 17 June 2014 - SOLD OUT!
Wednesday, 18 June 2014 - SOLD OUT!

Enmore Theatre, Sydney, NSW
Friday, 20 June, 2014
BOOK ONLINE or Phone 13 2849
Lizotte's, Newcastle, NSW
Sunday, 22 June 2014 - SOLD OUT!

Lizotte's, Kincumber, NSW
Monday, 23 June, 2014 - SOLD OUT!
Tuesday 24 June, 2014 - SOLD OUT!

Melbourne Recital Centre, Melbourne, Vic
Thursday, 26 June, 2014 - SOLD OUT!

Melanie first shot to stardom with her unforgettable appearance at the Woodstock Festival in 1969. The performance prompted the now common phenomenon of signalling an artist for an encore by holding up some form of light (first it was a candle, which merged into lighters, then flashlights and now mobile phones). In her hit song, Lay Down (Candles in the Rain), Melanie shared her experience of when the audience lifted up their candles in the rain during her set at Woodstock. Melanie's singles Brand New Key (Roller Skate Song), Lay Down (Candles in the Rain), Peace Will Come, Look What They've Done To My Song, Ma and Ruby Tuesday have all achieved Australian chart success with Brand New Key reaching #1 and remaining in the charts for 18 weeks in 1971. In the USA, Melanie has had 13 Top 40 hits, including 3 #1 hits. Melanie's list of accolades and acclaim certainly is an extensive one but as the New York Times suggests "MELANIE is an Artist who has no need to 'LAY DOWN' everything she has done to take her place in Music History!"
Australia has always held a special place in Melanie's heart after her numerous visits throughout the seventies, one of which included another first: Melanie was the first commercial artist to perform on the Sydney Opera House Concert Hall stage. Melanie's last Melbourne appearance saw two shows extended into twelve sold out concerts at the Dallas Brooks Hall in 1977.
A new generation was exposed to Melanie with the release of the Hilltop Hoods' hit song, The Nosebleed Section that included a sample of Melanie's People in the Front Row. The Nosebleed Section was a huge hit for the "Hoods" coming in at No. 9 on triple j's Hottest 100 in 2003 and No. 17 on the station's Hottest 100 of All Time released in 2009.
In this intimate evening of song, Melanie will be accompanied by her son Beau Jarred Schekeryk on Guitar, Andrew Worboys on Piano, Dave Hatch on Drums and Tina Harris on Bass.
A donation from profits from The People in the Front Row Tour will be made to Animals Australia. Promoter David M. Hawkins has been an active supporter of Animals Australia and as Melanie also is a great supporter of animal rights, they have aligned to support this great organisation that is giving Australian animals a voice against cruelty.