RECENT PAST SHOWS

Please check various booking links for on sale details
Nancy And Beth is the punk/vaudeville heart-child of Megan Mullally (Will & Grace, Parks and Recreation) and Stephanie Hunt (Friday Night Lights, Californication), who sing songs while dancing and wearing matching costumes. Yes, matching costumes, and they're heading our way to sing and dance up a storm.
Each performance is a fully choreographed, non- scripted, tongue-in-cheek experience with a combination of psychic twinship, childlike enthusiasm, rigorous preparation of songs, and zero preparation of what happens in between. Megan and Stephanie, and the five dollfaces that back them up, have created a musical outfit that is celebratory, surprising, sweet, tuneful, eye-catching, thought-provoking and amusing.
"Everything is performed so perfectly (and even sometimes movingly) … You can't put your finger on why, but it is savagely funny while also being a really rousing show" LA Times
"The most avant-garde show to play the Cafe Carlyle in recent memory" Theater Mania
HAIR THE MUSICAL
National Tour 2019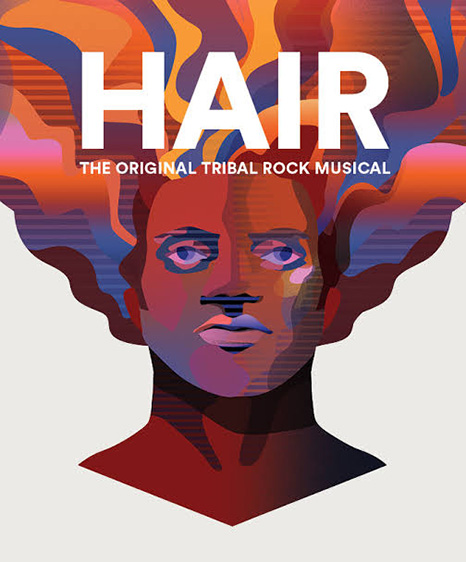 John Cameron Mitchell in The Origin Of Love Tour
WORLD PREMIERE TOUR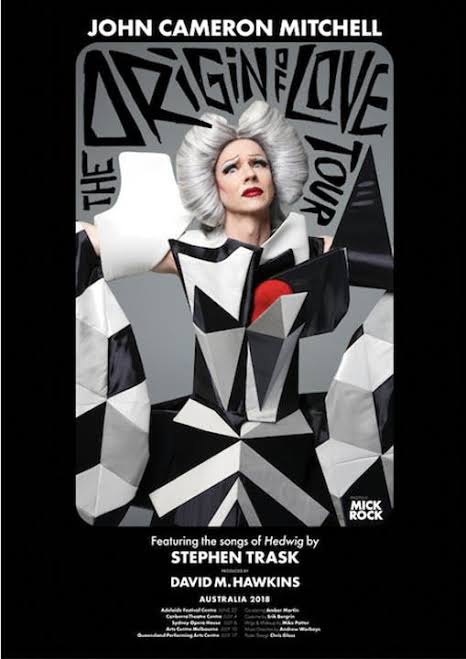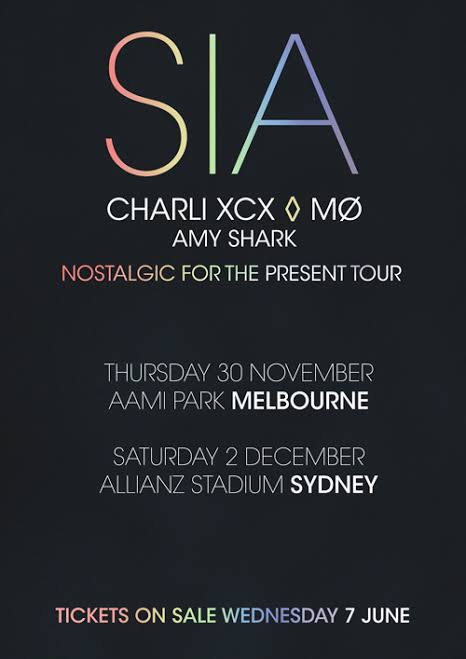 CABARET THE MUSICAL
Sydney and Melbourne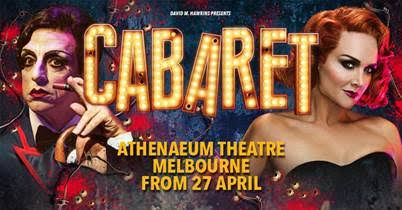 GRAMMY AWARD WINNING SOUL SENSATION IS BACK AFTER HER SELLOUT 2012 TOUR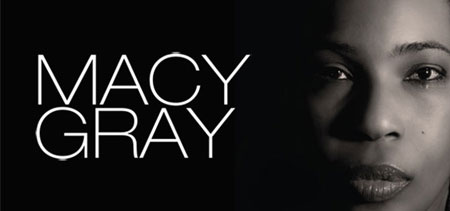 The Athenaeum Theatre, Melbourne, Vic
Saturday, March 7, 2015
Concert Hall, Perth, WA
Sunday, March 8, 2015
Darwin Entertainment Centre, Darwin, NT
Tuesday, March 10, 2015
The Big Slapple - Adelaide Fringe Festival
Adelaide Convention Centre, Adelaide, SA
Wednesday, March 11, 2015
Lismore City Hall, NSW
Friday, March 13, 2015
Tivoli Theatre, Brisbane, Qld
Saturday, March 14, 2015
Blue Mountains Music Festival, NSW
Sunday, March 15, 2015
Lizotte's, Newcastle, NSW
Tuesday, March 17, 2015
Glasshouse Theatre, Port Macquarie, NSW
Wednesday, March 18, 2015
Enmore Theatre, Sydney, NSW
Thursday, March 19, 2015
Grammy-award winning singer/songwriter Macy Gray will be making her much anticipated return to Australian shores on her "The Way" national tour in March 2015.
Celebrating the recent release of her highly acclaimed ninth album The Way, Macy will kick off the tour in Melbourne, with stops in Perth, Darwin, Adelaide, Lismore, Brisbane, Port Macquarie and Newcastle before wrapping up the tour at Sydney's Enmore Theatre.
Macy Gray first sauntered onto the popular stream of consciousness at the turn of the century with her debut multi-platinum album On How Life Is, featuring the international chart topping hit single, I Try. It was the success of her debut album that kicked off a career that includes multiple Grammy award nominations, including a win for Best Female Pop Vocal Performance, BRIT and MTV Awards, over 30 million units sold, and a thriving acting career (Training Day, Spiderman, Scary Movie 3, The Paperboy).
Macy has forged a career creating music that leaps genre barriers from experimental soul to alternative rock, from retro-disco to hip-hop, collaborating with artists including John Frusciante, Erykah Badu, Gang Starr, Mos Def and Pharoah Monche. Macy has forged an uncompromising musical path beholden to her own vision and garnering accolades at every juncture.
And now, as a single mother of three teenagers and an established career woman in both music and film, Macy Gray is finally ready to share her journey with the world. The Way features uplifting tracks laced with Macy's signature sound as she covers powerful topics such as female independence, triumph over adversity, self-love and expression.
Macy Gray's unmistakeable sound is one that has captured the imaginations of a generation, a truly unique artist with a bucket full of soul and an utterly relatable emotiveness, leading audiences on a wild ride of raw emotion and leaving them in awe of her undeniable pure talent and musicality.
On her last visit down under for 2012's Covered Tour, Macy Gray began somewhat of a love affair with Aussie audiences playing to sell-out crowds across the country, growing her fan base in the process and leaving fans clamouring for more.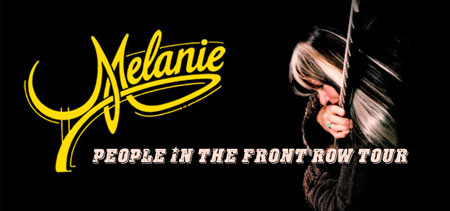 The first lady of Woodstock returns to Australia
This will truly be a night not to miss of wonderful music that spoke to a generation and beyond. Melanie will present all her hits and some new compositions all woven together with her witty stories of a career that is nothing short of extraordinary.
Adelaide Cabaret Festival, SA
Dunstan Playhouse
Saturday, 7 June, Sunday, 8 June and Monday, 9 June
Brisbane Powerhouse, Brisbane, Qld
Thursday, 12 June 2014
Star Court Theatre, Lismore, NSW
Saturday, 14 June 2014
The Clarendon, Katoomba, NSW
Tuesday, 17 June 2014
Enmore Theatre, Sydney, NSW
Friday, 20 June, 2014
Lizotte's, Newcastle, NSW
Sunday, 22 June 2014
Lizotte's, Kincumber, NSW
Monday, 23 June, 2014
Melbourne Recital Centre, Melbourne, Vic
Thursday, 26 June, 2014
Melanie first shot to stardom with her unforgettable appearance at the Woodstock Festival in 1969. The performance prompted the now common phenomenon of signalling an artist for an encore by holding up some form of light (first it was a candle, which merged into lighters, then flashlights and now mobile phones). In her hit song, Lay Down (Candles in the Rain), Melanie shared her experience of when the audience lifted up their candles in the rain during her set at Woodstock. Melanie's singles Brand New Key (Roller Skate Song), Lay Down (Candles in the Rain), Peace Will Come, Look What They've Done To My Song, Ma and Ruby Tuesday have all achieved Australian chart success with Brand New Key reaching #1 and remaining in the charts for 18 weeks in 1971. In the USA, Melanie has had 13 Top 40 hits, including 3 #1 hits. Melanie's list of accolades and acclaim certainly is an extensive one but as the New York Times suggests "MELANIE is an Artist who has no need to 'LAY DOWN' everything she has done to take her place in Music History!"
Australia has always held a special place in Melanie's heart after her numerous visits throughout the seventies, one of which included another first: Melanie was the first commercial artist to perform on the Sydney Opera House Concert Hall stage. Melanie's last Melbourne appearance saw two shows extended into twelve sold out concerts at the Dallas Brooks Hall in 1977.
A new generation was exposed to Melanie with the release of the Hilltop Hoods' hit song, The Nosebleed Section that included a sample of Melanie's People in the Front Row. The Nosebleed Section was a huge hit for the "Hoods" coming in at No. 9 on triple j's Hottest 100 in 2003 and No. 17 on the station's Hottest 100 of All Time released in 2009.
In this intimate evening of song, Melanie will be accompanied by her son Beau Jarred Schekeryk on Guitar, Andrew Worboys on Piano, Dave Hatch on Drums and Tina Harris on Bass.
A donation from profits from The People in the Front Row Tour will be made to Animals Australia. Promoter David M. Hawkins has been an active supporter of Animals Australia and as Melanie also is a great supporter of animal rights, they have aligned to support this great organisation that is giving Australian animals a voice against cruelty.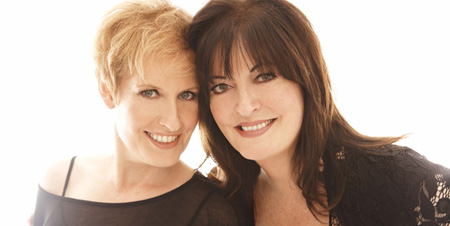 ANN HAMPTON CALLAWAY and LIZ CALLAWAY in 'SIBLING REVELRY'.
This dynamic duo is one singular sensation.
SYDNEY
THE BASEMENT - MONDAY 23 JUNE - 8PM
MELBOURNE
MELBOURNE RECITAL CENTRE - WEDNESDAY 25 JUNE -7.30PM
When Broadway's Liz Callaway and cabaret's Ann Hampton Callaway blend their voices together in perfect harmony, the sound is, simply put, exquisite.
Ann's dark, husky and jazz-flavoured sound is the perfect complement for Liz's clear bell tones in their acclaimed sister act, Sibling Revelry. The award-winning show was originally presented at New York's iconic cabaret venue Rainbow and Stars and has delighted audiences throughout North America and Europe.
This dynamic duo from Chicago prove they're one singular sensation, singing the best of the American Songbook from show tunes to jazz and pop. Separately, of course, they have made big names for themselves. Ann's as an highly awarded acclaimed jazz and cabaret singer/songwriter and Liz as a Emmy Award Winning and Tony-nominated actress. Australian's will know their voices best from the theme song from hit TV show 'The Nanny', which Ann also wrote.
The Callaway sisters promise an evening of wit and humour combined with some of the best songs America has produced.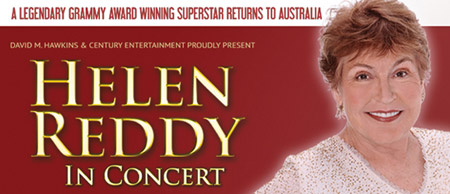 A true Australian national treasure performs her favourite songs and hits from her stellar career. The "Queen of '70s Pop" is back on tour after more than a decade off the road.
MELBOURNE
THE ARTS CENTRE HAMER HALL - 5 APRIL - 8PM
SYDNEY
THE CONCOURSE CHATSWOOD CONCERT HALL - 7 APRIL - 8PM
SYDNEY
THE ENMORE THEATRE - 11 APRIL - 8PM
BRISBANE
QPAC CONCERT HALL - 13 APRIL - 7PM
ADELAIDE
FESTIVAL THEATRE - 15 APRIL - 8PM
PERTH
CROWN THEATRE - 17 APRIL - 8PM
Helen Reddy is one of the best known recording artists in the world. With more than a dozen Top 40 hits including the iconic anthem "I Am Woman", which was added to the National Film and Sound Archive in Australia in 2009. Helen Reddy was the first Australian to win a Grammy Award, host her own Television show and have three #1 hits in the same year in the USA. As recently as 2011, Billboard Magazine named Reddy the #28 best adult contemporary artist of all time.
As a solo concert artist, she has played at New York's prestigious Carnegie Hall and Lincoln Center, as well as the Palladium and Royal Albert Hall in London. Her career covers all facets of the entertainment industry including film, television and the theatrical stage. Her starring role in Disney's PETE'S DRAGON continues to delight younger generations. Her portrayal of Mrs Johnstone in BLOOD BROTHERS on Broadway was a great triumph which she repeated in the West End. Appearances in USA national tours of SHIRLEY VALENTINE, ANYTHING GOES, CALL ME MADAM, and THE MYSTERY OF EDWIN DROOD were also met with critical acclaim. The lyrics Reddy penned for her feminist anthem "I Am Woman" are now featured in American history high school textbooks, as an example of the Women's Equality Movement for which she has been honoured with the 26 August being named Helen Reddy Day in Hollywood with the US Postal service creating a commemorative envelope in 2013 to celebrate.
You will not want to miss this rare opportunity to hear "I Am Woman", "Angie Baby" and "Delta Dawn" performed live by Reddy herself.
"Reddy's voice remains a magnificent instrument"
Timesunion 2013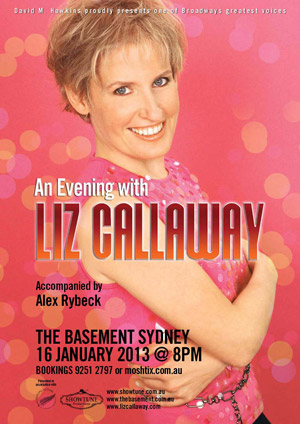 AN EVENING WITH LIZ CALLAWAY
Accompanied by
ALEX RYBECK
THE BASEMENT SYDNEY
16 JANUARY 2013, 8PM
Liz Callaway is a Tony®Nominee and Emmy Award-winning actress, singer and recording artist. She made her Broadway debut in Stephen Sondheim's Merrily We Roll Along, received a Tony Award nomination for her performance in Baby, and for five years, won acclaim as Grizabella in Cats. She has also starred in the original casts of Miss Saigon, The Three Musketeers, and The Look of Love.
Liz sang the Academy Award nominated song "Journey to the Past" in the animated feature Anastasia and is also the singing voice of Princess Jasmine in Disney's Aladdin and the King of Thieves and The Return of Jafar. Other film work includes the singing voice of the title character in The Swan Princess, Lion King 2: Simba's Pride, Beauty and the Beast, and The Brave Little Toaster Goes to Mars.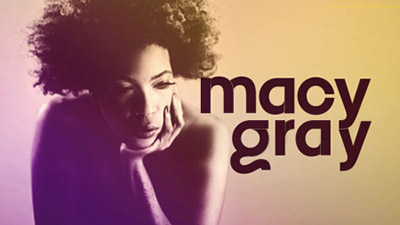 Macy Gray's first tour of Australia in over 10 years.
Concert Hall at Sydney Opera House
16 September 2012
Jupiter's Theatre at Jupiter's Casino and Resort, GOLD COAST
19 September 2012
Concert Hall at QPAC, BRISBANE
20 September 2012
Hamer Hall at The Arts Centre, MELBOURNE
21 September 2012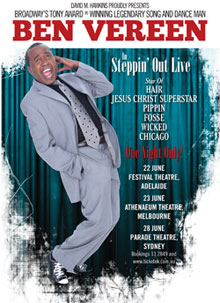 BEN VEREEN
in
STEPPIN' OUT LIVE WITH BEN VEREEN
A true legend of Broadway, Ben Vereen will be Steppin' Out with a unique blend of artistry combining a journey of his amazing career on Broadway, and paying tribute to Frank Sinatra, and Sammy Davis Jr. Each performance is filled with song and dance, stories of his life, and a great deal of humour.
Tony Award winner for his role in Pippin, Vereen has appeared on Broadway in Wicked, Fosse, Chicago, Jesus Christ Superstar, Hair, Grind, Jelly's Last Jam, A Christmas Carol and I'm Not Rappaport. Vereen's film credits include Bob Fosse's classics Sweet Charity and All That Jazz and Barbara Streisand's Funny Lady. Vereen starred as 'Chicken George' in the 7 Emmy Award winning mini-series Roots as 'Chiken George', other TV appearances include How I Met Your Mother, Grey's Anatomy, Law and Order: CI, OZ, Touched By An Angel, Second Noah, New York Undercover, The Nanny, and Star Trek - The Next Generation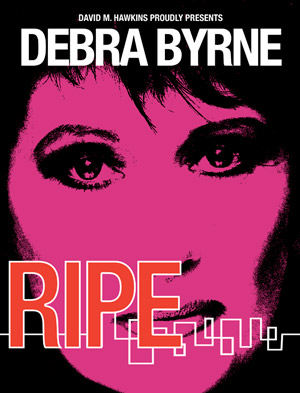 DEBRA BYRNE - RIPE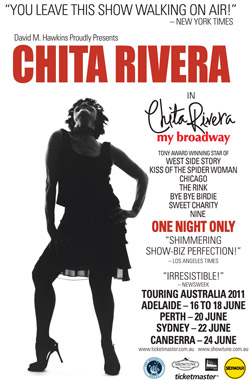 CHITA RIVERA - MY BROADWAY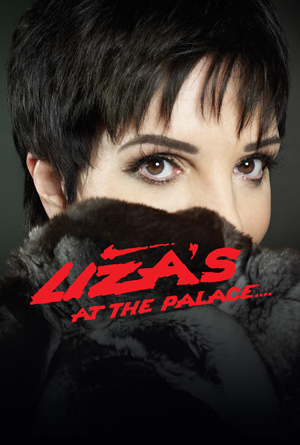 LIZA MINNELLI - 2009 AUSTRALIAN TOUR