MEDIA 2009
LIZA MINNELLI TO STAR IN BRISBANE SHOWS NEXT YEAR
BRISBANE COURIER MAIL
30 OCTOBER 2009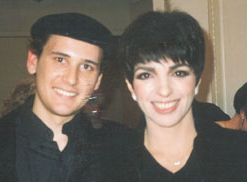 PRODUCER David Hawkins is set to realise an almost life-long dream next year when he brings legendary singer Liza Minnelli to the Brisbane stage. Hawkins, who's currently producing the musical Hedwig and the Angry Inch at QPAC until Sunday, said he convinced Minnelli to come out next September-October through 20 years of persistence.
"I met Liza when I was 15, in 1989 when she came out here with Frank Sinatra and Sammy Davis Jr," Hawkins told Confidential.
"We met in Sydney and we got on really well for a 15-year-old and a 40-year-old and we kept in touch with letters.
"I've been asking her to come out for three or four years. The funniest thing was when she met me she said 'You don't take no for an answer kid, never change'."
Persistence paid off for the star-struck young performer-turned-producer and after years of experience under his belt working with the likes of divas Lorna Luft (Minnelli's half-sister), Lillias White and Tony award winner Faith Prince, Hawkins is ready to take on the doyenne of musical theatre.
"It's huge, it's really exciting. The show's about her godmother Kay Thompson, who wrote the book Eloise based on Liza," he said.
"The new show is probably the first time she's talked about her family. She's not big on talking about her past.
"It initially wasn't something I thought I could do but with the support of other promoters it's been really terrific."
Hawkins said Minnelli had added China to her pre-Australia schedule for next year, with venues undecided.
READ ORIGINAL ARTICLE
LIZA - QUEEN OF COMEBACKS
IT'S A sunny spring day in New York, perhaps too warm to wear a suit, but if Liza Minnelli sends an invitation for lunch, it's appropriate to make an effort. That effort, it turns out, will be reciprocated.
Sydney Morning Herald
LIZA - A LEGEND CALLED LIZA
No one has endured the gauntlet of scrutiny and controversy more than Liza Minelli. But still, she has always managed to come out on top. Ahead of her Australian tour, the living legend speaks about her life, career and what keeps her going.
SX
LIZA ON TOUR
The New York Post described her as a triumph and a true legend and the Times said she was a pure entertainer. Now, Liza Minnelli is about to bring the show that inspired such glowing reviews to Australia.
The Daily News
LIZA MINNELLI IS A WEB SCRASH HIT IN SYDNEY
WE'RE sure it has absolutely nothing to do with Sydney being the gay capital of the nation but interest in pre-sales for Liza Minnelli's Sydney concert tour crashed the Sydney Opera House's website yesterday.
The Daily Telegraph