PAST SHOWS - 2007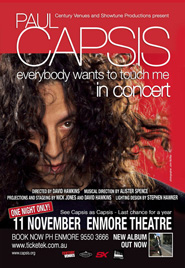 PAUL CAPSIS
in
EVERYONE WANTS
TO TOUCH ME
"Whether swooning with soul or belting it out like a bruise, Capsis' turbo-powered voice makes each tune his own." ~ Sydney Sunday Telegraph
"..he made his deepest mark when he dropped the mask.." ~ Time Out, New York
Capsis has achieved iconic status. His inspired performances have captivated audiences in London, Vienna, Hong Kong and New York His varied performances in music, theatre and film have won him not only numerous awards (including four prestigious Helpmanns and two Green Room Awards) but a place in the hearts of all who have witnessed his electric talent.
Direct from New York, Paul Capsis returns to proudly launch his new album-everybody wants to touch me. Capsis will drop the mask, wipe off the make-up and step up as himself, performing songs from the full spectrum of his inspirations – and for the first time, songs of his own creation.
In a full-scale rock show produced by the creative team that brought you "Hedwig and the Angry Inch" with backing from a fabulous line up of musicians led by ARIA nominated Alister Spence, Capsis will sing pop, rock, soul and gospel in a way only he can. This will be Paul's only concert appearance in Sydney for over a year as he heads into "Tales From the Vienna Woods" for the Sydney Theatre Company, followed by a swift jump to the left as Riff Raff in the cult rock show "The Rocky Horror Show".
Directed by DAVID HAWKINS
Musical Direction by ALISTER SPENCE
Staging & Projections by NICK JONES & DAVID HAWKINS
Lighting Design by STEPHEN HAWKER
Associate Producer DEBORAH TOBIAS