PAST SHOWS - 2009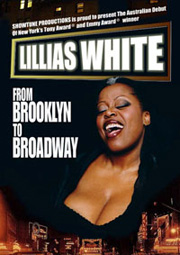 David M. Hawkins presents
LILLIAS WHITE
in
FROM BROOKLYN TO BROADWAY
BACK BY POPULAR DEMAND AFTER SELL OUT 2005 TOUR!
ADELAIDE CABARET FESTIVAL
DATE: June 17, 18, 19
VENUE: Festival Theatre Stage - Adelaide Cabaret Festival

SOFITEL MELBOURNE ON COLLINS
DATE: June 26 & 27
VENUE: Sofitel Melbourne on Collins
"Lillias White is a singer who makes the most
challenging vocal feats look almost easy." - New York Times
LILLIAS WHITE has been recognized on Broadway with the Tony Award®, Drama Desk Award®, Peoples Choice® Award and The Outer Critics Award® for Best Actress in a Musical -- Broadway's Prestigious Quadruple Crown -- for her 1997 role as Sonja in the The Life. In 1990 she won The Obie Award® for Best Actress in a Musical for her portrayal of Hennie in Romance in Hard Times. In addition, she won The Drama Logue Award® for Best Actress in a Musical for her role in the national tour of Dreamgirls. Other theater credits include the Broadway productions of How to Succeed in Business, Once on This Island, Rock n' Roll: The First 5,000 Years ( Aretha Franklin ), Barnun, Carrie and Dreamgirls, as well as the off Broadway productions of Crowns, The Vagina Monologues, Waiting for Godot, The Princess & The Black-Eyed Pea, and Dinah Was. Lillias White has also gone on the national and international tours for Ain't Misbehavin', Tintypes and The Wiz.
Lillias White's TV and Film credits include featured roles in the films, Pieces of April, The Grinch That Stole Christmas, Gloria, North and Disney's Hercules. In 1992, Ms. White won an Emmy Award® for her role as Seasame Street's Lillian Edwards. Other television credits consist of recurring roles and guest spots on Outreach, Law & Order, NYPD Blue and The Jury. In 2004 Ms White was cast opposite Eddie Griffith in HBO's pilot Pryor Offenses (The Richard Pryor Story ).
Lillias White the recording artist, has an extensive list of recordings which include cast records and featured vocalist performances. Most recently she recorded Dream Girls : The Concert, Too Hot To Handle (The Gospel version of Handle's Messiah ") and was featured with Tony Bennett on Cy Coleman's most recent record. Lillias White CDs include From Shubert Alley to Jazz Alley and From Brooklyn to Broadway. She regularly appears in concert at The Kennedy Center, Carnegie Hall and Lincoln Center, as well as, a guest soloist on the PBS Special, such as, A Tribute to Ella Fitzgerald and In Performance at The White House.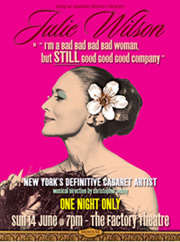 David M. Hawkins in association with
The Adelaide Cabaret Festival
presents
JULIE WILSON
in
I'm A Bad Bad Bad
Bad Woman, but
STILL Good Good Good Company