PAST SHOWS - 2004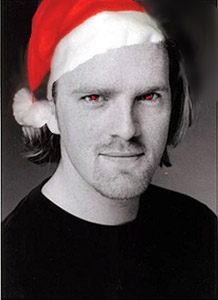 JAMES MILLAR IN
"SHOPPING CENTRE SANTA"
17 DECEMBER
In October 2004 James Millar opened in the "solid gold hit" Eureka at Melbourne's Her Majesty Theatre in the principle role of Frederic Vern. Projected to tour for up to 18 months, James believed all his Christmases had come at once.
In November 2004, only a month later, the show closed.
James' third cabaret show, explores the experiences of a disgruntled out of work actor forced to go to Santa School (yes, it DOES exist!) and don the apparel of jolly old Saint Nick in shopping centres full of greedy kids, credit cards and yuletide muzak.
A comedy of the highest order full of Christmas tunes you may not have heard - and some old favourites that may never be the same again.
Shopping Centre Santais an hilarious evening out full of eclectic festive melodies and is a joy for anyone who has an intense fear of snowflakes, mistletoe and midgets.
James is accompanied by Michael Tyack.
---

TIM MINCHIN IN "DIE KABARETT"
5, 12, 19 & 20 NOVEMBER

die kabarett is a dark and hilarious smorgasbord of music, comedy, beat poetry and air-guitar.

Minchins got it all: he writes lyrics like Noel Coward, has the timing of Bill Cosby and banters like Woody Allen. Unfortunately, hes straight, white and about as kosher as a Chirstmas ham.

"Mr Minchin has fine musicality, fine poetry, fine wit, in short, a fine madness. This is quality comedy." - Max Gillies

"Articulate, thoughtful, dry and unashamedly polysyllabic... Dark, irreverent and talented... Excellent, provoking, funny. - Fiona Scott-Norman, The Age

...a hilariously entertaining show. - Buzz Cuts

With a brain roughly the size of a bookstore's cultural studies section and a vocabulary to match... Minchin is indisputably chucklesome. - Helen Razer, The Age

In October last year, Tim Minchin wrote and performed his first solo show, Navel cerebral melodies with umbilical chords, which earnt him two nominations at the 2003 Green Room Awards. He was a Victorian state finalist in Raw Comedy 2004, and his second show, Perineum Millennium (the in-between years) sold out at the Melbourne International Comedy Festival in April this year. He has just returned from a sell-out season of Die Kabarett in WA.

---

HAYDEN TEE IN "THE GIN IS COLD...BUT THE PIANO IS HOT - THE MUSIC OF KANDER AND EBB"
6 & 13 NOVEMBER

Sydney Cabaret Convention winner Hayden Tee presents his new show The Gin is Cold..but the Piano's Hot - The Music of Kander and Ebb.

This brand new show with musical direction by Nigel Ubrihien, is a sometimes dark and sometimes comic and always personal look at the music, lyrics and world of John Kander and Fred Ebb, the classic Broadway composers of such hits as Cabaret, Chicago, New York New York and Kiss of the Spider Woman

Hayden was drawn to their work as their style and thematic structure examines the hypocrisies and ironies of life "they wrote many songs about happy endings, yet their shows never had happy endings..they walked on the dark side but with a wry smile on their faces"....

---

MICHELINE VAN HAUTEM IN "SONGS OF JACQUES BREL"
27, 28, 29 & 30 OCTOBER

After her sell-out shows at the 2004 Adelaide Cabaret Festival Micheline returns to play the Melbourne International Festival and then comes to Sydney for four special shows before returning to New York.

Belgian singer Micheline Van Hautem performs the songs of her fellow countryman; the extraordinary Jacques Brel.

Van Hautem's interpretations of Brel's dense, complex lyrics and stunning melodies keep the essence of the originals; elegiac angry, funny, heartrendingly beautiful songs.

Featuring Frederik Caelen on accordion and piano.

"Micheline Van Hautem is in a different league. She is, simply, fabulous." - The Times

"Micheline Van Hautem's interpretation of the mesmerizing songs of Jacques Brel is pure dynamite. This is a perfect show. A real tour de force." - The Scotsman

---

FRIENDS OF BARBRA IN "EVERGREED"
25 OCTOBER

They've played three sell-out seasons in New York but its been four years since award-winning cabaret trio Friends of Barbra last performed in Australia. Now they are on thier way home with Evergreed, a new show that pokes fun at them, their namesake and the notion of celebrity... they've tasted a little and now they want more.

Evergreed is Sex in the City meets Survivor, with a power-ballad (or two) thrown in for emotional depth. Just like life.

Friends of Barbra's Michael Smallwood, Luke Gallagher and Nigel Ubrihien have experienced the dizzying heights of international cabaret boyband stardom and are back to sing about it. From Babs to J.S Bach, Annie Lennox and Kermit the Frog. Evergreed is a tour-de-force of no-holds-barred comedy cabaret.

The naughty boys of Australian cabaret are making thier Sydney debut for one night only!

---

CHRISTINE ANU IN "INTIMATE AND DEADLY"
2, 7, 8, 9, 14, 15 & 16 OCTOBER

Christine Anu has become an Australian household name ever since she exploded on to the contemporary music scene with her debut album Stylin' Up in 1995. Her career spans all facets of the entertainment industry from her beginnings in contemporary indigenous dance with the Bangarra Dance Company to her critically acclaimed portrayal of Mimi in Rent to being featured as Arabia in Baz Luhrmann's Moulin Rouge. She is the ultimate triple threat.

For the first time ever get intimate with Christine Anu as she shares her amazing career and heritage in this very special wanem time Kabarett show.

Concept and Direction: David Hawkins
Written by: Wednesday Kennedy and David Hawkins
with Helen and Christine Anu
Musical Direction: Andrew Worboys

---

MICHELLE COLLINS IS "THE LITTLE AUSSIE BATTLEAXE"
25 SEPTEMBER AND 1 OCTOBER

Australia's oldest ingenue, Bunty Battleaxe, would have starred in a snuff movie if they paid her enough! (Just once) But now she is much more choosy about her audience.

More Burlesque than Mae West!
More Malice than Debbie Does Dallas!
More frocks than the Footy Show!
This show has legs!

Sequins, feathers, tap dancing and more cheese than the Coon factory.

Michelle Collins is Bunty Battleaxe - self appointed champion of the underdog, divine defender of truth and justice in the Australian way....

The Bitch of the Battlers! Here to check out the VIBE! with Kirsty Lee Allan and Bridget Zizza as the VIBE RATERS.

Featuring Dazzling Daryl Wallis on piano.
Directed by Jo-Anne Cahill.

---

WEDNESDAY KENNEDY IN "LAST NIGHT IN NEW YORK "
4, 10, 11 SEPTEMBER

They were the images2 that will haunt the world forever - terrorist strikes on the United States on September 11, 2001.

Now, on the third anniversary of the attacks, Showtune Productions presents a multimedia performance by Wednesday Kennedy that takes us back to the city that never sleeps, in the aftermath of 9/11.

Kennedy roams the streets in the weeks after the attacks, capturing a fractured and vulnerable New York, trying to make sense of a dramatically altered landscape. The show moves from New Yorkers' responses to Kennedy's own narrative, presented in vignettes woven throughout the documentary/performance - part poetry, part performance and part journalism, a unique and very personal hybrid from an outsider fused to the city by catastrophe.

---

RODNEY DOBSON & MARGI DE FERRANTI IN
"STORIES LIKE OURS"
20, 21, 27 & 28 AUGUST

November 2003, showbusiness greats Rodney Dobson and Margi de Ferranti seemed set, both were enjoying lead roles in The Full Monty and Mamma Mia! respectively, and seemed destined to be employed until March 2005. Suddenly in February 2004, they both found themselves back in their homes on the Central Coast of NSW scratching their heads, thinking "How did I get here?"

Margi and Rodney try to work out why the proverbial fickle finger of fate decided to cut short their showbiz dreams come true. In Stories Like Ours, with tongue firmly in cheek, they will look back on their careers and reveal the twists and turns they have taken to earn their status as "Showbiz Veterans".

In what is guaranteed to be an evening of great singing and laughter, see Rodney, Margi and musical director Nigel Uhbrien, strut their stuff.

---

KAYE TUCKERMAN IN "MANEATER"
ACCOMPANIED BY EDDIE PERFECT & HIS BAND
13 & 14 AUGUST

She's sexy, she's sassy and she performed in front of a sell out crowd at the recent Adelaide Cabaret Festival. Now Sydney audiences can see Kaye Tuckerman perform her own show, Man-Eater.

Kaye Tuckerman is a virtuoso cabaret talent whose star is rising meteorically. Audiences are amazed at the power she packs into every number she sings. Seething with sensuality, moving like a Las Vegas dancer, engaging audiences with her rapier wit, singing sweetly and belting out a big number - these are just some of the comments made by her audiences.

Winner of the New York Award at the 2003 Sydney Cabaret Convention, she's a singer, actress, dancer and director - there's not much Kaye Tuckerman hasn't already packed into her young life. Over the past 12 months, aside from performances at the 2004 Adelaide Cabaret Festival, she has performed in New York's three leading cabaret venues and was the feature entertainment at the 2004 Australian of the Year in the UK Awards (major award won by Clive James). She performed in Kooky Tunes in both Sydney and Melbourne, toured as a vocalist with international music theatre sensation, Michael Ball, and appeared in Sunset Boulevard alongside Anthony Warlow. Phew!

---

JAMES MILLER & VERITY HUNT-BALLARD IN
"MOMENTS OF BREATHTAKING STUPIDITY"
MAY 28, 29, 30

"Stupidity. Lacking ordinary activity and keenness of the mind. Ridiculous choices leading to ridiculous outcomes. Lack of normal-functioning intellect and rationale.

Sounding frighteningly familiar? Qualities that, indeed, we must all confess to presenting from time to time."

Moments of Breathtaking Stupidity stars James Millar and Verity Hunt Ballard, recent WAAPA graduates, who have taken pen to paper to explore, through song and whacky observation, a variety of true-life moments that reflect how we human beings can be so hilariously, and sometimes disturbingly, dim-witted.

Accompanied by the glorious fingers of Bev Kennedy (The Lion King, Mamma Mia) and the delicious vocals of James and Verity, Moments of Breathtaking Stupidity is an eclectic mix of Off-Broadway tunes and Contemporary Ballads, from Sondheim to the Bee Gees, and will be sure to have you laughing 'til you cry.

Moments of Breathtaking Stupidity is a zany, poignant and gobsmackingly-enlightening evening for anyone who likes their cabaret mixed with a big, bright dose of silliness!

---

PETER BAILEY, JIM CATT, LISA SCHOUW & GINA ZOIA - Special Guests FREEFALL
16 MAY

She's on her way to this year's Adelaide Cabaret Festival in June and has a night in The Studio at the Sydney Opera House later in the year with her show The Other Woman: The Life and Music of Nina Simone, but before she goes, Lisa Schouw has brought together the outstanding vocal talents of Peter Bailey, Jim Catt, Gina Zoia, FREEFALL and Brett Wood for 3 nights of drop-dead gorgeous music.

John Shand, SMH describes Schouw, "in a voice like dark chocolate she wrapped vulnerability around a core of steel".

---

LUCY TAYLOR, THOMAS CAMPBELL AND LEONIE COHEN IN "CATCH US IF YOU CAN..."
MAY 6, 7, 8 AT 8PM

Rarely in a reviewer's theatrical life does such an important, significant and death defying group of artists appear in the one show. Vocalists Lucy Taylor, Thomas Campbell, teamed with pianist Leonie Cohen represent an important, ground breaking, fresh faced new movement in the world of cabaret, or as they call it, "funny stuff with some singing and dancing".

A post-post modern, god is dead but not, da-da-ish, Brechtian/ Artaudian/ Lloyd Webberish multi media, puppetry hip-hop hybrid cross over performance piece with a strong "little l" liberal post pre humanist discourse that reinvents the re invention of cabaret, this production will change the face of Australian performance as we know it, have known it and will, perhaps, know it in the future. That is if Australian performance has a face. Funny yet humourless, at once dumb and clever, shocking yet comfortable, fragile yet stable, refined but raw, this ponderous, adrenalin charged, overly long, compact piece will keep you close to the edge of your seat that you have no danger of falling off.

KEN TINAN

"The New, New, Very New Authoritarian Republic Magazine

---

PETER BAILEY, JIM CATT, LISA SCHOUW & GINA ZOIA - Special Guests FREEFALL (Friday and Sunday), BRETT WOOD (Saturday)
APRIL 30, MAY 1 AND MAY 2

She's on her way to this year's Adelaide Cabaret Festival in June and has a night in The Studio at the Sydney Opera House later in the year with her show The Other Woman: The Life and Music of Nina Simone, but before she goes, Lisa Schouw has brought together the outstanding vocal talents of Peter Bailey, Jim Catt, Gina Zoia, FREEFALL and Brett Wood for 3 nights of drop-dead gorgeous music.

John Shand, SMH describes Schouw, "in a voice like dark chocolate she wrapped vulnerability around a core of steel".

---

KOOKY TUNES - APRIL 24 AND MAY 1

A wildly funny, smash hit New York Revue with an all-star cast of Australia's top cabaret talents. This production comes to the National Press Club direct from it's premiere season at Kabaret Voltaire, Sydney and stars four of the country's brightest cabaret talents - Sharon Millerchip, Andrew Benson, Kaye Tuckerman and Eddie Perfect with musical direction by Greg Crease.

---

JEANNIE LEWIS IN "SURF N THE CITY"
APRIL 22, 23, 24 AND 25 AT 8PM

"Her voice has never sounded better. Like most of the great singers she is a natural actor who sends blood pumping through every word, whether those words are floating or grinding." John Shand

"Friday struck gold in its (Sydney Cabaret Convention) line-up of guest artists... then came Jeannie Lewis - her artistry placing her at the top of the cabaret tree" Bryce Hallett

Join thousands in the run to Kabaret Voltaire for the sensual vocals of Jeannie Lewis teamed with the cool guitar of Greg Olsen.

Fresh from the southern beaches Jennie is brimming with inspiration for the city in the south: songs of the sea and songs from the heart.

As the full moon rises high above the skyline, be swept away with favourites and discover songs from her new album, SouthHeart.

---

LJ SMITH IN "CONFESSIONS OF A CAFFEINE ADDICT"
APRIL 16 AND 17 AT 8PM


She's blonde, talented and just a little bit crazy!

Cabaret sensation, LJ Smith sings up a storm in her latest cabaret, "Confessions of a Caffeine Addict".

Her latest hilarious story follows the adventures of English Ex-pat, Polly Randall, who has travelled down-under in search of the "Australian Dream".

However, what she finds upon her arrival is a job as a receptionist in an advertising agency. Each day in Polly's office brings a host of colourful characters, all with a somewhat odd story to tell.

Her daily grind is only broken by the guy that works at the local coffee shop who, despite a near death experience at the hands of Polly's cooking, may just be the man of her dreams - even though she hates coffee!

Come and be stimulated by the lives, loves and eccentricities of a day in the office!

---

HAYDEN TEE - FINAL SHOW
APRIL 18

One of Australia's most acclaimed young actor/singers, Hayden hails from New Zealand and has been working professionally in Australia since he was 18. Most recently Hayden has gathered considerable acclaim from the national tour of his one man show "Quarterlife Crisis". In February last year Hayden played the leading role of Frances in "Three Winters Green" by Campion Decent at the Stables Theatre in Sydney, receiving much critical praise.

More recently, Hayden has been hosting the smash hit cabaret concept "Muf-Tee", which played at the Stables Theatre for eight months and has just completed a New York season.

Hayden is the winner of the New York Award at the 2002 Sydney Cabaret Convention.

---

ANDREW THRELFALL IN "OUT ON A LIMB"
APRIL 2, 3, 4 AT 8PM

DIRECT FROM MELBOURNE'S MIDSUMMA FESTIVAL!

Madonna admits the secrets of her succes

The Metrosexual Community Church finally comes out of the closet.

And William Finn's bag lady speaks, well sings.

Out On A Limb brings together the work of some of the last century's greatest composers and the odd gay icon or two in a light-hearted look at life, love and fantastic hair. It's all the songs that were too silly, too obscure or just too gay for your average cabaret brought together into an outreach project gone completely insane. It's camp, it's silly, it's a lot of fun.

The show features work from everyone from Stephen Sondheim to Kylie Minogue, running the gamut of styles from musical theatre to modern pop.

And the secret of Madonna's success?

Come along and find out

---

JOANNA WEINBERG IN "SINKSONGS"
MARCH 18 - 21

The singing housewife who escapes the NapiSan and flies into cyberglory.

Sinksongs follows the journey of a housewife stuck at home with twin toddlers suffering the lonely desperation that so many women will immediately recognise. Whilst her travelling husband is away, she installs a webcam in her coffee cupboard so she can share her musical fantasies, or "sinksongs" with other people. This opens up a whole new world in this enchanting musical tale of liberation.

Sinksongs has been written by veteran cabaret writer and performer Joanna Weinberg, who has composed music and lyrics for five one woman shows as well as a full scale musical. Nigel Ubrihien is the arranger and accompanist.

Come and join this poignant and comic journey, which will not only get your toes tapping, but awaken recognition in anyone who has ever changed a nappy.

---

ANGRY EDDIE
5 &14 MARCH

Angry Eddie is a provocative, comic, musical burlesque from Green Room Award winning song-writer, singer, musician, actor and satirist Eddie Perfect. Featuring a spanking new crop of songs from Perfect's pointed pen - including John Howard's Bitches, Poor Little Middle-Class Me, and Some Of My Best Friends Are Aboriginal, the show takes aim at the big targets; politics, sex, war, popular culture, apathy, the media, and juice bars. Angry Eddie promises that no-one will escape unscathed, with the possible exception of Sophie Monk.

Suave, hilarious and tremendously musically talented Fringe Buzzcuts Eddie's had a hard year. Eddie's not coping. Just when he thought he had the world figured out, someone changed the rules. Now Eddie is Angry. Exactly when was it decided we'd hand over our trust, power, and free will to a bunch of fucking idiots? Eddie missed that meeting.

This man is a one-off." Cabaret Hotline Australia

Angry Eddie is putting the cutting-edge back into Cabaret, supported by the opinionated and occasionally nude pianist, Tim Minchin, a night with Angry Eddie is deluxe entertainment and more dangerous than taking a bus in Israel. If Michael Moore was an Australian song-writing comedian, that would be really odd but Angry Eddie is Perfect.

---

AUSTRALIAN DEBUT OF KEITH THOMPSON'S HIGHLY SUCCESSFUL NEW YORK REVUE KOOKY TUNES

11 - 15, 20 - 22, 27 - 29 FEBRUARY 2004
5 - 7 MARCH 2004

AN ALL STAR CAST
ANDREW BENSON, SHARON MILLERCHIP
EDDIE PERFECT AND KAYE TUCKERMAN

"A MUST-SEE" (Sun Herald)

Accompaniment and musical direction by
Mr. Greg Crease

Kooky Steps by
Ross Coleman

Directed by
DAVID HAWKINS

A wildly funny, smash hit New York Revue with an all-star cast of Australia's top cabaret talents. This production comes to the National Press Club direct from it's premiere season at Kabaret Voltaire, Sydney and stars four of the country's brightest cabaret talents.

---

LISA SCHOUW & FRIENDS WITH PETER BAILEY & KATIE SEIDLER, JO SCANLON, LOUISE DAVIDSON, ANDREW BIRLEY, PENELOPE WELLS, GERARD MAREE, MARK NICHOLS AND KYLIE HARRIS
18 & 25 FEBRUARY

Following the sellout success of her show The Other Woman:The Life & Music of Nina Simone last year, Lisa Schouw is back at Kabarett Voltaire for 2 nights only with a celebratory evening of music, love and laughter.

As part of Mardi Gras 2004, Schouw has invited friends, students and family to join her on stage for a night that touches on adversity, courage, love and self discovery.

"For me Mardi Gras is so much about celebration and honouring who you are. I wanted to spend a night with friends sharing our music and just having a great night with no pretensions," says Schouw.

So what do you get if you put a forensic psychologist, an events coordinator, a couple of public servants, an office manager, an actor, a mother and a lawyer on stage together? Music, madness, mayhem and mirth!

Each singer has chosen songs that are favourites - songs they bonk to, songs they drive to, songs they dream to.

And Schouw has put together songs from her last two sell out shows; "The Other Woman" and "Lost in the Stars" as well as some surprises.

---

SHAUN RENNIE IN "SECOND STAR TO THE RIGHT"
6, 7, 8 FEBRUARY

If being awarded the first prize at the 2003 Sydney Cabaret Convention wasn't enough for the talented Shaun Rennie, then maybe revelling in the acclaim he is receiving from hard New York critics might be! Winning the convention gave Rennie his air ticket, an invitation to perform at the Mabel Mercer Foundation Cabaret Convention and the added confidence to tackle New York head on but only he can lay claim to the talent needed to prove yourself in the make or break city.

New York City is a long way from home for a suburban Sydney boy that became a regular performer on "Good Morning Australia", appeared in several high profile TV commercials, sang the national anthem for televised sports matches, attended the National Institute of Dramatic Arts (NIDA) and toured nationally for 2 years in the Australian smash hit cast of Mama Mia in the role of Pepper but Rennie is prepared to sacrifice such comforts for a chance as continued success abroad.

---

AMIE McKENNA IN IDOL REJECT TALENT ADVENTURE
9, 15, 23, 30 JANUARY

Be treated by The Idol Reject Circus plus a whole lot of other fantastic performers including music from Modernists, Bobby the Beatbox, Faddy Kassab (direct from the conservatorium of Lebanon), old rockers Jane's Suite and some great original acoustic stuff from John Anthony! There is even an open mic for anyone who wants to get up and make noises and upstairs we will have Bar Media (screenings of short-films by hot young film makers) Plus MORE MORE MORE! And you get all this for the COMFORTABLE price of $10!

---

A NIGHT OF SONG WITH KATIE SEIDLER AND LISA SCHOUW
JANUARY 2 & 4

It is two years since Katie Seidler has performed and 8 years since she last shared the stage with Lisa Schouw. So tonight these two fabulous singers will celebrate life and love with the music of Kasey Chambers, Nina Simone, Living Colour, Cole Porter and much much more. Recently returned from a trip around the world, Katie is keen to perform again. Most notable of Katie's long history of singing, was her 5 years as lead singer for the band MOViDA, who released the "August" EP of original songs in 1996.

Joining the ladies on stage is musician extraordinaire Peter Bailey who will be playing the piano and guitar as well as singing fantastic harmonies. A night not to be missed.