PAST SHOWS - 2003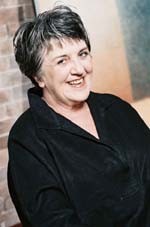 MAGGIE KIRKPATRICK IN
STILL HERE
4, 10 - 14, 17- 20 DECEMBER
Maggie Kirkpatrick has been an actor for 42 years. Her career has spanned theatre, film, television, cabaret and even a music video for silverchair.
Since first singing on the bar of her grandmother's pub at the age of 2, she has worked all over the U.K. - from the West End to Edinburgh; from Perth to Auckland and all whistle stops in between.
"STILL HERE" is a personal journey of some of the highs and lows of her 62 years told with her usual candour accompanied by the wonderful Andrew Ross
---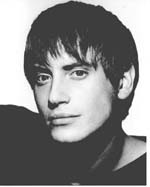 HAYDEN TEE
5 & 14 DECEMBER
One of Australia's most acclaimed young actor/singers, Hayden hails from New Zealand and has been working professionally in Australia since he was 18. Most recently Hayden has gathered considerable acclaim from the national tour of his one man show "Quarterlife Crisis". In February this year Hayden played the leading role of Frances in "Three Winters Green" by Campion Decent at the Stables Theatre in Sydney, receiving much critical praise.

More recently, Hayden has been hosting the smash hit cabaret concept "Muf-Tee", which played at the Stables Theatre for eight months and will premiere in New York early next year.

Hayden is the winner of the New York Award at the 2002 Sydney Cabaret Convention.
---

LIZ BOWIE & REBECCA KYPRI IN "TAKE ONE"
1 DECEMBER

Liz Bowie and Rebecca Kypri are "Cab Sav" and following performances at Muf-tee and the Side-On Cafe this year, the pair return in their hit show "Take One" for one night only at Kabarett Voltaire.

"Take One" is a comic and moving journey through life, an open and funny look at love, at sex (who's getting it and who isn't), at work (who's getting it and who isn't), at society, surviving shopping through a mid life crisis, at men and why there aren't enough to go around and caffeine related neurosis.

---

ROANNA DEMPSEY IN "RE-PLAY ... SIX MONTHS ON"
30 NOVEMBER

After sell out shows at Sorlies @ Glen Street Roanna brings her one woman show.

"RE-PLAY..six months on!" For the first time to Kabarett Voltaire. Accompanied by the amazing Darryl Wallis, Roanna will take you on a unique journey you're unlikely to forget!


---

Showtune Productions will play host to an exciting new regular jazz series starting in November, at Sydney's original home of contemporary jazz, the old El Rocco Jazz Cellar. Now operating as Kabarett Voltaire @ Bar Me, the Kings Cross venue will initially play host to up to four nights a week of exciting jazz.

El Rocco Revisited will feature some of the slickest and hardest swinging jazz players that Sydney has to offer , and with the chance of surprise guest appearances and jam sessions late into the night, there is a fantastic opportunity to experience the cosy yet electric atmosphere of this historic bohemian jazz cellar.


Mondays: 3,10,17,24 SEAN WAYLAND TRIO www.seanwayland.com

Tuesdays: 4,11,18,25 MATT BAKER TRIO www.mattbaker.com.au

Wednesdays: 5,12,26 BILL RISBY TRIO
www.billrisby.com

Wednesday: 19 MATT McMAHON TRIO

Thursday: 27 GERARD MASTERS TRIO

---

2003 WAPPA GRADUATES IN "FRESH MEET"
21 & 22 NOVEMBER

2003 WAAPA Graduates present- "Fresh Meet" - 21 & 22 November. Meet five cabaret virgins graduating from the West Australian Academy of Performing Arts (music theatre) celebrating their arrival in Sydney, as west meets east in a quirky assortment of stories, music and laughs. Featuring Leon Bryant, Verity Hunt-Ballard, Damian Rebgetz, Steven Burrows and Lisa Sontag.

---

NATALIE GAMSU
14, 15, 16 NOVEMBER

Natalie has only just arrived in Sydney after spending 11 years in New York City. She originates from Namibia.

While in New York she created her one-woman shows with her writing partner Gary Carter, and performed at Club 88's, The Firebird, and the Oak Room at The Algonquin Hotel, to name a few, as well as clubs all over America. She is the recipient of 2 Mac Awards (Manhattan Association Of Cabaret) as well as a Backstage Bistro Award. Natalie can be seen in the documentary Showbiz is My Life, and she has recently produced her first CD, Weave. Since her arrival in Sydney, Natalie has been a regular guest on Muftee and just completed a successful run at The National Press Club in Canberra.

---

BURNING BRIDGES
7 & 8 NOVEMBER

A grim new order is on the rise. You feel powerless to stop it. You are forced to leave your home. And the stage is the only place you can breathe in freedom. Now you must sing for a whole generation. Sing so that you won't be forgotten.

Cabaret was born in Paris and Berlin at a time of brutality and displacement between two world wars. Kurt Weill's cabaret and theatre songs have carried that critical, passionate voice of resistance across a war-torn Europe and around the world. In Sydney cabaret today it is rare to hear such a voice, but never has there been such a need for it to be heard.

In a program conceived by Musical Director, Andrew Davidson, and directed by NIDA graduates, Jenny Green and Gemma Tamock, Burning Bridges sets this voice of the war-torn past against those who continue to subvert into the new millennium. Join this eclectic collective of oustanding performers for an exciting evening of cabaret and music theatre songs from both sides of the Atlantic and Australia.

---

JOANNA WEINBERG IN "SINKSONGS"
31 OCTOBER & 1 NOVEMBER

The singing housewife who escapes the NapiSan and flies into cyberglory.

Sinksongs follows the journey of a housewife stuck at home with twin toddlers suffering the lonely desperation that so many women will immediately recognise. Whilst her travelling husband is away, she installs a webcam in her coffee cupboard so she can share her musical fantasies, or "sinksongs" with other people. This opens up a whole new world in this enchanting musical tale of liberation.

Sinksongs has been written by veteran cabaret writer and performer Joanna Weinberg, who has composed music and lyrics for five one woman shows as well as a full scale musical. Nigel Ubrihien is the arranger and accompanist.

Come and join this poignant and comic journey, which will not only get your toes tapping, but awaken recognition in anyone who has ever changed a nappy.

---

Rainbow's End, a musical in two acts, with book and lyrics by John Shand and music by Noel Fidge, was workshopped over four days in the perfect and conducive surroundings of Kabarett Voltaire from October 20. The workshop was directed by Tony Sheldon, and had Max Lambert as Musical Director. The cast was:

Loretta - Nancye Hayes
Henry - Neil Fitzpatrick
Sophie - Lucy Durack
Jimmy - Adam Scichluna
Nigel - Derek Metzger
Kev - Frank Hansen
Tiffany - Lena Cruz
Myra/Tanya - Julie O'Brien
Wendy/ Alisha - Teresa De Gennaro
Barry/policeman - Bob Baines
Arthur/policeman - Doug Scroope
Jack - Tony Taylor

The workshop also served as a rehearsal for a recording the following week made at SBS Studios.

---

LISA SCHOUW & PETER BAILEY IN "THE OTHER WOMAN - A TRIBUTE TO NINA SIMONE"
OCTOBER 18, 19, 25, & 26

After last years sold out shows, ARIA nominated singer Lisa Schouw is back. She has mined the treasure trove that is the music of Nina Simone to weave together the life that was Ninas. From her birth in North Carolina in 1933 to her death earlier this year Simone was a performer of nearly unsurpassed eclecticism with her repertoire including soul, jazz, pop, show tunes and folk music. Of all the major singers of the late 20th Century she is one of the hardest to classify - Duke Ellington called her beyond category. With classics such as My Baby Just Cares For Me, House of the Rising Sun, Four Women and I Love You Porgy, Lisa tells of a life and music that resisted comparison and convention.

"Schouw's voice is as richly deep as molasses and as sweet as honey." - Drum Media

"There are no pretensions, just consummate artistry. " On The Street

---

AVIGAIL HERMAN IN "HEY WORLD, HERE I AM - THE STREISAND STORY"
24 OCTOBER

For 40 years she has been a star! Feisty, bold, a trail-blazer and a perfectionist. Her career has spanned all aspects of the entertainment industry: recording, film, TV , stage. She has produced, directed, written and acted. But most of all, she has sung!

This show is a celebration of Streisand through her music. Her story told through her songs. All the favourites & then some! It's a chance to explore the "funny girl "from Brooklyn who took the world by storm!

---

MEAGAN CARATTI
17 OCTOBER

Last October Meagans solo debut Let It Start...sold out at Bondi's Kabarett Junction before playing Dont Tell Mamas in New York, and wowing critics and audiences alike at the 2002 New York Cabaret Convention in New York Town Hall.

Since then Meagan has performed as a guest artist at Hats Off! 2002~ Back to Basics, the inaugural season of Stage Door ~ Cabaret at The Basement, Get Happy! at Star City and Burning Bridges at The Edge Theatre - a performance she will repeat later this year.

Accompanied by a fabulous trio led by Musical Director Greg Crease, don't miss Meagan in this once off performance!

"Cleverly funny...can be added to the list of vocal wonders Australia has provided us New Yorkers with...bedazzled us" ~ Cabaret Hotline Online, New York.

---

KAYE TUCKERMAN IN "MANEATER"

A graduate of WAAPA (Bachelor of Arts Music Theatre) and NIDA (Directors course) Kaye appeared in Nick Enrights award winning Australian musical The Boy from Oz, and toured internationally with Les Miserables. She has also performed supporting roles in Buddy, Jesus Christ Superstar, South Pacific, The Sign of the Seahorse, The Importance of Being Earnest, and the blockbuster feature film Matrix Reloaded.

Most recently, Kaye performed with Australian Theatre Legend Nancye Hayes, presented the Jazz Awards at the 28th Annual Mo Awards, and appeared as special guest on the pilot of Muf-tee late night Cabaret. She currently is the resident host of Stagedoor Cabaret at Sydneys premiere jazz venue, The Basement. Her guests have included Stuart Wagstaff, Toni Lamond, Jane Rutter, Eddie Perfect, The Voice Squad, Natalie ODonnell, Queenie van der Zandt, Margi de Ferranti and Christa Hughes.

---

AMIE McKENNA & BASIL HOGIOS IN "POP TALES"

Amieinc is Sydneys most exiting and entertaining new performance troupe Featuring the vocals and crazy antics of rising talent/actor/singer/general crazy girl Amie McKenna, the superb sounds of accompanist/producer extraordainaire Basil Hogios. They'll be performing everybody's favourite songs from Madonna to the Beatles and Patsy Cline to Nirvana with their unique 'Electric Vaudeville' style. Amieinc bring with them an eclectic rag bag of live and electronic sounds, singing, comedy, dance and storytelling. An entertaining evening of great music and irreverent humour.

"...a contralto as soothing as a swing in a hammock"- John Shand SMH

Amie Inc. is her pop persona who creates exciting music and theatrics with talented producer Basil Hogios.

---

DAVID HAWKINS & ANDREW WORBOYS IN "NOM DE PLUME"

David Hawkins presents a special two night return of his critically acclaimed kabarett show.

Everyone from Maxwell Demon, solicitors, prostitutes to celebrity! This is no normal cabaret - in fact it is true kabarett. No one is safe in this high powered, non-stop journey with music and dialogue written by Wednesday Kennedy and David Hawkins. A kabarett through the eyes of two Sydney-siders. A cabaret with a BENT!

The Hawk's wild flight spans the music of Weill and Brecht, through to the dark strains of Melanie Safka, Lou Reed and David Bowie. Expect a show tune or two, but don't get too comfortable!

So, ladies and gentlemen, prepare yourself for the good vibe, the generous vibe, the come-back-to-my-parlour vibe let me entertain you vibe.

"Big, lustrous voice and brooding intensity .... the way the material fitted together was fastidiously sculpted by Hawkins and his writing collaborator, Wednesday Kennedy." - John Shand, Sydney Morning Herald

MATT YOUNG AND ROSEMARY KEEPING IN "KEEPING YOUNG"

You've Got to Go Where You Want to Go!

Sonny and Cher. The Captain and Tennelle. Mork and Mindy. And now, Rose Keeping and Matt Young are KEEPING YOUNG. Don't miss the debut of this dynamic duo. The New York knight and the Australian Rose promise you a rollicking good time as they reminisce about favourite 45's, the music that made them make-out, and the power of pop music to help you "be who you want to be!" So come along for the ride of your life.

---

ANITA PLATERIS IN "NOW BACK TO ME!"

"I'll just nip in and get a bottle of that stuff the wife likes." Grey marble and thick black glass. A clink of light on crystal. Liquid music from a distant piano and a Gold Blackamoor. The air is heady with Citrus and Tuber Rose, Amber and Poppy. She has seen you, before you see her. Black eyes. Woman. The woman. The woman behind the perfume counter of the most beautiful store in the world. Her words trap you like a Midge in a drop of nectar, "Would you care to try this sir?" She offers her wrist to sniff. I CAN RUN, I CAN HIDE, BUT I CAN NOT ESCAPE.

There's no other dame like ANITA PLATERIs! There's no other story like the one she spins in her latest cabaret, "Now... Back To Me".

She answers the eternal question of an actor "But what do you do for a real job?" In between her appearances in such major musical theatre works as Chess, Grease, Superstar, Pirates of Penzance and Shout (to name a few!) and her gigs in the New York showrooms, the Plateris has squirted cologne in hundreds of faces, dabbed perfume on thousands of wrists and suffered the indignities of millions; to the vain, the proud and the pretentious. The general cosmetic buying public can be loud, mean and very funny. Maybe you will see you in:

"Now... Back to me".
By, about and starring
Anita Plateris*
Directed by Tony Taylor
Musical Director - Lindsay Partridge
*Ms Plateris appears courtesy of the Polish Community.

---

TONI LAMOND A.M IN "STILL FULL OF LIFE"

"STILL SOUNDING GREAT AFTER ALL THESE YEARS" read the headline of The Australian's review of Toni Lamond's showstopping spot at the Sydney Cabaret Convention in May 2003.

Toni has toured her show FULL OF LIFE throughout Australia and ultimately to New York, and now with additional material and a preview of her next big show (still under wraps) she brings STILL FULL OF LIFE to Kabarett Junction.

The show is a fast paced, eclectic combination of music, laughter and pathos.

The songs range from pop, ballads, musical theatre to gospel, with standards by Berlin, Ellington, Coward, Mercer, Carmichael, Sondheim and Billy Joel, to original Australian material by Nick Enright, Tony Sheldon and Ron Creager.

With anecdotal humour, she touches on relationships (good and bad), reality TV (bad and abysmal) and ageing (not for sissies) and the ups and downs of a career that is constantly evolving and still going strong.

STILL FULL OF LIFE makes for, as Dame Edna would say: "A nice night's entertainment."

With Ron Creager on piano.

"Cabaret is full of singers, Toni Lamond is an entertainer and that's a bit rarer" Chip Deffaa, New York Post

---

MELISSA LANGTON IN "ME AND MR JONES"

'Sensational! Cabaret at its best.' The Age

Direct from the Adelaide Cabaret Festival, the cheeky, quirky, generous and abundant Melissa Langton is back in town with her brand new hit show.

With more laughs, more vocal fireworks and more sassy lounge-style classics from the 60's and 70's, and accompanied, and occasionally upstaged by the inimitable Mark Jones, Me and Mr Jones is a powerful, comic cabaret.

You'll get a thing going on with Me and Mr Jones.

Directed by Shaun Murphy

---

ANTHONY GOLDMAN IN "OY VAY! IT'S BROADWAY"

Anthony Goldman in a one-man cabaret
Musical Director: Will Conyers

Thanks to the likes of Bernstein, Sondheim, Kander & Ebb and Schwartz, Anthony Goldman explores aspects of being Jewish around the world and in Australia.

Under the musical direction of one of Australia's leading musical directors, Will Conyers, Anthony brings to life great songs from Broadway musicals including Les Miserables, Pippin, Fiddler on the Roof, West Side Story, Into the Woods, Rags and The Fantastiks.

Anthony Goldman may be best known as an 11 year-old child signing Jackson Five hits in shopping centres and kid's TV shows. Twenty years on, Anthony makes a return to performing in his first one-man cabaret.

Anthony trained in singing at Johnny Young Talent School and Her Majesty's Theatre, Sydney. As a youngster, he voiced many television commercials and appeared in numerous communal theatre productions. A recent trip to the U.K. inspired Anthony to return the stage - Oy Vay!

---

GINA HOGAN-JONES IN "AT THIS EVENING'S PERFORMANCE..."

From BEAUTY AND THE BEAST to MAMMA MIA! ...a journey through the dog-eat-dog world of musical theatre.

Following a critically acclaimed performance in FALSETTOS for Melbourne's Blackbird Productions, Gina Hogan-Jones returns with "AT THIS EVENING'S PERFORMANCE...", a fabulous one woman cabaret.

This new show gives an insight into Gina's incredible journey through the dog-eat-dog world of professional theatre.

Gina takes a comic look at her life as 'Queen of the Understudies' singing favourites from shows she has been in, shows that she loves and with a special tribute to the amazing Eva Cassidy.

A generous serving of musical theatre, a dash of jazz and a pinch of soul - with lashings of humour on the side!

"Gina Hogan-Jones shows great theatrical flair" - The Age
"Razor sharp!" - Herald Sun
"An outstanding performance" - Stage Left Magazine

---

ANDREW THRELFALL IN "SIGNIFICANT OTHERS

"Significant Others" is a show about love, politics and teddy bears. Join Andrew Threlfall on a journey from the playpen to Parliament in a new show about finding the people who matter... and working out what to do with them once you've got them!

"Significant Others" runs the gamut from dead serious to dead silly as Andrew brings together the work of masters like Bucchino, Sondheim and Jason Robert Brown... not to mention Patsy Biscoe...

The show follows the success of Andrew's first cabaret, "The Boy Who Knew Everything", which had five sellout seasons in Sydney and Melbourne.

"The new kid on the block... has a great voice." (The Age, Melbourne)

"Completely charismatic... cabaret as it should be." (VibeWire, Melbourne)

---

JULIE O'BRIEN & JEREMY POWELL IN "THE DATING GAME"

'The Dating Game' is more than 'a bit more than a cabaret' ­ much more! It's a great new show - a musical romp through the trials and tribulations of trying to get it on with the Wrong Mr Right. It's a roller-coaster ride full of the ups and downs, the ins and outs, the unders and over-it's, pros and dot-cons of dating in the so-called 'New Millenium'.

Featuring a wide range of songs from music theatre and popular or contemporary work, as well as some of the great old standards and some very funny action, 'The Dating Game' showcases the huge comedic and vocal talents of Julie O'Brien and Jeremy Powell, with Kellie Dickerson at the piano ­ and a bit more than that, too.

---

AMIE McKENNA IN "AMIEINC - POP TALES"

Amieinc is Sydneys most exiting and entertaining new performance troupe Featuring the vocals and crazy antics of rising talent/actor/singer/general crazy girl Amie McKenna, the superb sounds of accompanist/producer extraordainaire Basil Hogios. They'll be performing everybody's favourite songs from Madonna to the Beatles and Patsy Cline to Nirvana with their unique 'Electric Vaudeville' style. Amieinc bring with them an eclectic rag bag of live and electronic sounds, singing, comedy, dance and storytelling. An entertaining evening of great music and irreverent humour.

"...a contralto as soothing as a swing in a hammock"- John Shand SMH

Amie McKenna graduated from NIDA in 2000. Since then she has appeared in TV shows 'Head Start', 'Blue Heelers' and 'Young Lions'. Theatre work includes Jim Sharman's 'Berlin to Broadway', Barrie Kosky's 'There is no need to wake up', 'Burning' for the Griffin, 'Swing Girl' for Glass Theatre,'Mad, Bad and spooky' for Theatre of Image,'Knives in Hens' at Belvoir St and 'Falling on my left ear' for Railway St Theatre. Her Cabaret work includes 'Hats off' 2000, 'Amieinc-Pop Hymns', A night of Lou Reed, Kurt Weill and Randy Newman directed by Jim Sharman and 'Dreaming Transportation' for the Sydney Festival 2003.

In May she will begin shooting the feature film 'A Man's Gotta do' in which she has a supporting role.

Amie Inc. is her pop persona who creates exciting music and theatrics with talented producer Basil Hogios.

---

BELINDA WOLLASTON IN "HYMNS FROM A HURRICANE"

Hymns From The Hurricane is a show from the heart - the songs that Belinda wants to sing, the stories she wants to tell. She takes you from an audition room to the big stage, from a dressing room to the streets of Sydney! Prepare for an entertaining wild journey that will leave you screaming for more.

"Belinda Wollaston is one of the great talents I have heard amongst young performing artists in recent times," says 2GB breakfast presenter Alan Jones.

"I have watched her develop into an outstanding young lady of immense stage presence, with a wonderful voice, a capacity to interpret a song and a unique ability to share the music and the lyrics with her audience."

---

SHOUT OUT WITH AN OPEN HEART

Stars from Australia's most successful stage musical, "Shout!" The Musical Of The Wild One, will converge on Sydney's Kabarett Junction next month for a very special fundraising event.

Last month, David Hawkins, who played Lee Gordon in the most recent production of "Shout!", underwent open heart surgery at the Prince Of Wales Hospital in Sydney.

He is now well on the road to recovery and is hoping to help others in a similar situation, with proceeds from the May 2nd fundraiser going directly to the cardiology department at the Sydney Children's Hospital, Randwick.

Darren Coggan, Rod Dunbar, Sarah J. Harlow, David Hawkins, Nick Jones, Benjamin J. McHugh, Peter Murphy, Kate Parry, Anita Plateris are some of the performers singing on the night.

"Shout!" The Musical Of The Wild One enjoyed major success in major cities across Australia and last year toured regional New South Wales to great success. Last month it played a highly successful Hobart season and is about to launch again on a national tour starting at Crown Casino in Melbourne on June 6th.

"Having such an amazing number of performers doing their party pieces will make for a very special night at Kabarett Junction. After going through what I did last month, I really wanted to give something back, and I think this is the perfect way to begin." David Hawkins

---

INGRID MAGANOV IN "ON MY WAY"

In her new cabaret show, co-devised with musical director Andrew Ross, Ingrid takes you on a journey from Estonia to the surf beaches of Sydney. Life often takes unexpected turns, defying even the best made plans, but surely that just makes it more interesting. Join Ingrid on a fun and sometimes tender musical adventure.

---

JORDAN BEST

Jordan Best is a Sydney based singer/songwriter with a catalogue of over fifty songs. She has performed in Sydney, Melbourne and Canberra as well as giving acting a bash at the Victorian College of the Arts. She also makes a great cup of coffee.

To All The Men Who Broke My Heart, Thanks For the Music

From the drunken night when it all began, to the present day, come with Jordan on a musical journey through broken hearts, swollen parts, and a very low cut top....

"Jordan Best, what a surprise! .......This is a girl who can make the hairs on your arms rise, then with equal measure bring a laugh up from your belly......."

---

TERESA DE GENNARO IN "CABARET FAN TUTTI"

Teresa De Gennaro sings an eclectic compilation of songs that define her as a passionate Italo-Australian performer.

Having won the inaugural 2001Adelaide Cabaret Festival Scholarship, then having a sell out season the following year, Teresa has been described as a star of the future, and her show as The Cat,s Whiskers.,

Cabaret Fan Tutti now hits Sydney to celebrate the wog in us all. You will be taken on a comical, intimate guided tour of Teresa growing up between two cultures that clash yet ultimately compliment each other.

This wog GIRL is smooth, quirky and a belter with balls who flirts with the likes of Dean Martin, Shirley Bassey, Cole Porter, Sondheim and other musical theatre Greats,.

With the multitalented Ben Loomes on piano the duo cook up a tasty dish that gets the audience singing along, Italian style.

---

MERYL LEPPARD IN "ORAL FIXATION"

"Oral fixation
a tender sensation
a singular sweet point of view
Oral fixation
a natural vocation
occurring when I'm next to you"

The voice.
The songs.
The weaving of the imagination.

Tall tales and true from "Queen of Performance" Meryl Leppard.
Accompanied by the inimitable Bob Spencer on guitar.

---

KIT AND THE WIDOW

Kit and the Widow are London's leading society cabaret performers they have performed with Kylie Minogue and Barry Humphries (who describes them as "brilliant and extraordinarily talented"). Both Prince Charles and Elle Macpherson have nominated them as their all time favourite act.