PAST SHOWS - 2008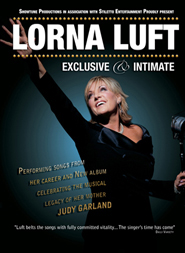 LORNA LUFT
Exclusive and Intimate
with her Trio
30 years since Lorna Luft has shared her amazing talent with Australian audiences. At last she is returning to Oz to belt out a few showstoppers, in the great tradition - as only one with her pedigree can. Direct from the UK tour of her show "Songs My Mother Taught Me" celebrating the musical legacy of her mum Judy Garland, and a series of concerts with Rufus Wainwright playing Carnegie Hall, The London Palladium and The Hollywood Bowl. She will be performing an exclusive, intimate night of songs from her new album, "Songs My Mother Taught Me", and her career in film and theatre.
Born into show business, to legendary entertainer Judy Garland and producer Sid Luft, Lorna made her television debut at 11, on The Judy Garland Show. By 19, she was stopping the show on her own, starring on Broadway in Neil Simon's hit musical, Promises, Promises. Her career continued on the NY stage in the musical Snoopy before taking a dramatic turn alongside Farrah Fawcett in the highly commended drama Extremities.
In addition to regional theatre productions of Grease, Carnival, Little Shop of Horrors, The Unsinkable Molly Brown, Girl Crazy, Mame and Gypsy, she has starred in national tours of They're Playing Our Song and as "Miss Adelaide" for 2 years in Jerry Zaks' world tour production of Guys & Dolls.
She starred alongside Craig McLachlan in the 2006 blockbuster UK premiere production of Irving Berlin's White Christmas: The Musical; quickly following that success with the 2007 hit revival of Rodgers and Hart's Babes in Arms, at the prestigious Chichester Festival Theatre.
In concert, Lorna has appeared at some of the world's most prominent venues including: The Hollywood Bowl, Madison Square Garden, Carnegie Hall, The London Palladium, Royal Albert Hall and L'Olympia in Paris. In 2006 and 2007 she garnered acclaim for her surprise duet appearances with singer/songwriter Rufus Wainwright at his celebrated tribute concerts to Judy Garland Rufus Does Judy, which have recently been released on CD and DVD.
In 2007 Lorna joined Alan Cumming and Margaret Cho as part of Logo Network's new animated series, Rick & Steve. A UK television favourite, she frequently appears as a guest, and sometime co-host, on ITV's popular Loose Women and was a subject of a highly rated BBC documentary titled Somebody's Daughter, Somebody's Son. In the US she has had featured roles on a number series including, Murder She Wrote, The Nanny, and was a regular on Trapper John M.D. She joined her sister, Liza Minnelli, in an electrifying duet on The Tony Awards and was a featured performer on PBS's Jerry Herman's Broadway at the Bowl.
In films, she is most remembered by fans of all ages as Pink Lady "Paulette Rebchuck", in the camp classic. Grease 2.
In 1998 Lorna added a new dimension to her multi-faceted career, that of NY Times best-selling author, upon the release of her critically acclaimed memoir - Me and My Shadows. It was optioned by ABC-TV and broadcast as a 4 hour miniseries, starring Judy Davis in February 2001. Lorna served as Co-Executive Producer on Life with Judy Garland: Me & My Shadows which garnered the highest ratings of the season and won 5 Emmy Awards.
In 2004, her one woman show Songs My Mother Taught Me had its debut on the West End to great success; it gained rave reviews in the UK and USA. The show is now currently enjoying a world tour, keeping alive the cherished musical legacy of her family.
3 May 2008 @ 2pm and 8pm
Fairfax Studio, The Arts Centre, Melbourne
8 May 2008 @ 8pm
Her Majesty's Theatre, Ballarat
10 May 2008 @ 8pm
Blakiston Theatre, GPAC, Geelong
17 May 2008 @ 8pm
Araluen Centre, Alice Springs
25 May 2008 @ 8pm
Karnak Playhouse, Port Douglas
29 May 2008 @ 8pm
Canberra Playhouse
5 June 2008 @ 8pm
The Events Centre, Caloundra
6 June 2008 @ 8pm
Southport RSL Club, Gold Coast
7 June 2008 @ 8pm
Powerhouse, Brisbane
13 - 14 June 2008 @ 8pm
Adelaide Cabaret Festival (with full band)